"Our family has been a part of the FCS community since my son started Kindergarten two years ago. I've loved being involved as a parent and am looking forward to serving as part-time faculty, as well.
-Holly Donithan, Upper School creative writing teacher
My husband Adam and I both grew up in Roanoke and met at Northside Middle School, but we didn't date until several years after graduating from college. Once married, we lived for several years in Richmond, VA, and Charlottesville, VA, where Adam completed medical school, residency, and fellowship. We were thrilled to return to Roanoke and our families in 2020 once his training was complete. We've now been married ten years and have two sweet children who attend FCS, Luke (2nd grade) and Hannah Kate (Kindergarten).
Our family has been a part of the FCS community since my son started Kindergarten two years ago. As we toured schools, I remember being impressed by the Christian classical model, and everyone I talked to who had any connection to FCS had good things to say about it. I've loved being involved as a parent and am looking forward to serving as part-time faculty, as well.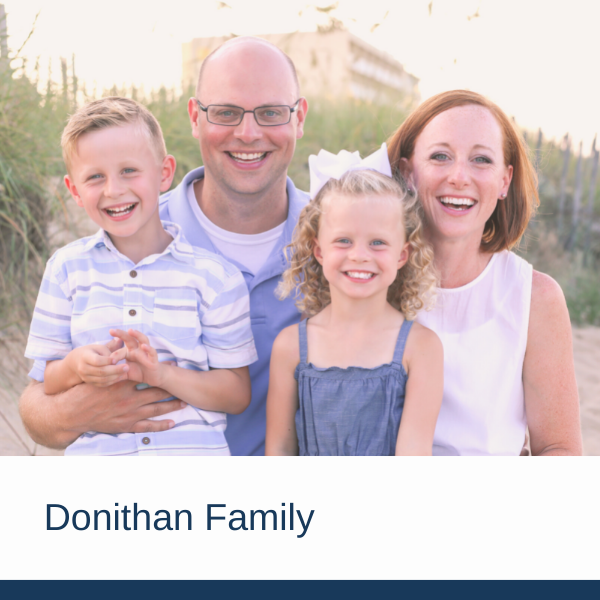 What post-secondary schools did you attend? Degrees held?
I received my Bachelor of Arts in English with a concentration in secondary education from Longwood University in 2007.
Have you taught or been involved in schools somewhere else prior to FCS? If so, where, and how long?
I taught 12th grade English at Lord Botetourt High School from 2007-2012, and then I taught 9th and 10th grade English at The New Community School in Richmond, VA, from 2012 until January of 2015 when my son was born.
What are your hobbies or things you enjoy outside of the school?
A walk or bike ride on the greenway is one of our favorite ways to spend an afternoon or evening, especially if it includes a stop at Blue Cow for ice cream! We also enjoy spending time with family, hiking, wading in Roanoke's many creeks, and traveling. In those rare moments when I have time to myself, I enjoy crafting, reading, or watching TV.
What's a favorite book you've read?
It's so difficult to choose just one favorite. It sounds cliche', but I really do love to study and read my Bible; I love that I can never fully mine the depths of it, so that would be my absolute favorite. But if I had to select a "secular" book, I think I'd pick Tuesdays with Morrie.
How many books do you have stacked on your bedside table or in your "To Read" pile?
My "to read" pile has too many to count, but next in the lineup are: 1) Parenting by Paul David Trip; 2) Family Discipleship by Adam Griffin and Matt Chandler; 3) Knowing God by J.I. Packer
What do you find most compelling or distinct about Christian classical education?
I love that students are not made into little robots who know how to regurgitate answers. Instead, they get lots of practice thinking deeply and critically about the world around them; they can explain and effectively support a biblical worldview in the midst of a world and culture that seems to be growing in misunderstanding and hostility towards it.
What or who inspired you to work in education?
Even as a young child, I loved "playing school." I'm the oldest of three children, so I often made my younger brothers my students, whether they were eager to learn or not. Haha! There were certainly many influential teachers along the way who further inspired me as well.
If you have a "life verse" or a verse that is ministering to you right now, what might it be?
"Be joyful in hope, patient in affliction, and faithful in prayer." - Romans 12:12
If you have a personal life's mission statement, what is it? If not, how might you describe what you feel called to as a believer?
As a believer, I feel called to remember and tell others who God is and what He has done for me (and all who believe) in sending His Son Jesus to die on the cross and rise again, and I strive to live each day in light of this beautiful truth.
What three words would you use to describe your impressions of Faith thus far?
Community, intentionality, sincerity