"Classical, Christian education represents an unapologetic championing of the best that has been thought and said. That is wildly unique in the world today."
-Benjamin Cooley
I was born in Annapolis, MD. I lived in one and the same house in that area for my entire youth, leaving only for college. The house was in a quiet peninsula neighborhood surrounded by the Severn River, the native music of my home comprised of bluejay whistles, cardinal cadences, bullfrog croaks, and osprey cries. I am freshly moved to Roanoke and am excited to explore the Blue Ridge Mountains and learn the music of this place!
I teach 7th grade Ancient History, Ancient Literature, and 8th grade Medieval History, Medieval Literature. I also advise two senior thesis students.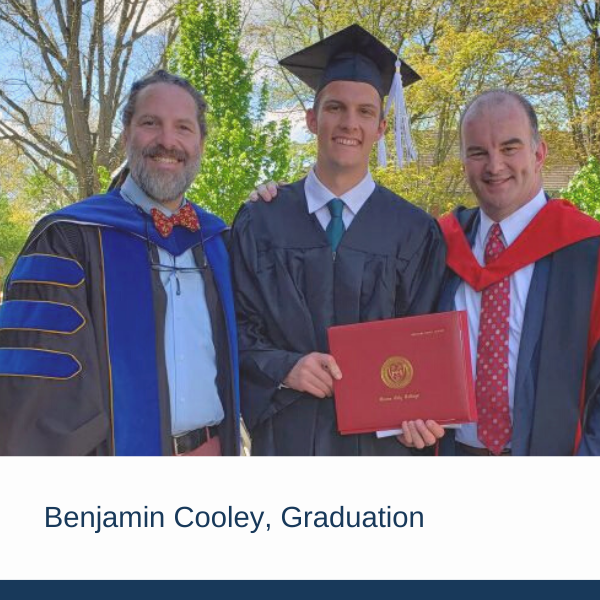 What post-secondary schools did you attend? Degrees held?
I attended Grove City College. I have a B.A. in Biblical and Religious Studies and a minor in English Literature.
Have you taught or been involved in schools somewhere else prior to FCS? If so, where, and how long?
I was "involved" in another Classical, Christian school for thirteen years: I attended Rockbridge Academy, from Kindergarten through Senior graduation. Besides this, I have tutored Middle School math, worked in the Writing Center at Grove City College for several semesters, and served my alma mater as a substitute Latin teacher.
Please briefly describe your journey to Faith Christian School and what attracted you to the school.
I grew up with fantastic teachers, the kind of teachers that take the first place prize for "coolest person I know," year after year after year. I thought teaching was for me for a very long time; this probably started when I was in seventh grade and had Mr. JD Head for Literature class. He was the first great role model to me of what a great teacher could be. I was attracted to Faith Christian School because of how the administrators and teachers seemed united in their vision, supporting one another, encouraging one another in an unflinching commitment to the student as a person, and not a mere "statistic." I found the job search for a Middle School Humanities teacher posted on the ACCS website, reached out to the school with my resume, and the rest is history!
What are your hobbies or things you enjoy outside of the school?
I enjoy the outdoors: bird-watching, hiking, backpacking, minimalist overnight solo camping... :) My preferred method of starting a campfire is flint and steel. I also have a deep love for music; I particularly enjoy the folk ballads of Stan Rogers (brownie-points if you know who that is). I play guitar and sing (a little). If I had a blank weekend, to spend however I want, I would camp out at Grayson Highlands, then spend the morning on a trail run. Afterwards, I would listen to Stan Rogers and try to paint a landscape.
What's a favorite book you've read?
Tolkien's masterpiece, The Lord of the Rings.
How many books do you have stacked on your bedside table or in your "To Read" pile?
Many, many, many books. Too many to count: there is always "one more." I am wildly curious (read, 'insecure') and so the pile gets taller and taller, the list longer and longer. I am currently working my way through G. K. Chesterton's The Everlasting Man, Virgil's The Aeneid, Chretien de Troyes' Knight of the Grail (Percival), and my eyes are wistfully eyeing a copy of The Alexiad of Anna Comnena that I acquired at a used bookstore this past month.
What do you find most compelling or distinct about Christian classical education?
Classical, Christian education represents an unapologetic championing of the best that has been thought and said. That is wildly unique in the world today. It is the person, not the product, that takes priority in this educational model, and the telos of the man or woman informs the whole of the educational structure. You must know what you are made for, to discern what is good for you.
What or who inspired you to work in education?
My mother, an art teacher of 20 years experience, my father who worked so hard to prioritize the education of his kids, as well as all the teachers and administrators who guided, encouraged, and inspired me: (from Rockbridge) JD Head, Nathan Northup, Devin Wilkins, Ralph Janikowsky, Mike McKenna, Emily Scheie, Monica Godfrey, Nathan Ristuccia, Chase Vaughn, Matthew Seufert, Brad Finkbeiner; (from Grove City) H. Colin Messer, Josh Mayo, Seulgi Byun, T. David Gordon, Jason Edwards, Mark Graham, and Carl R. Trueman.
Why do you love the idea of teaching at Faith Christian School or what do you anticipate appreciating most about Faith Christian School?
I love the idea of teaching eighth grade Medieval History. The course itself is so exciting to me. I expect, however, that the students themselves, more so than the content of the class, will endear me most to Faith Christian School.
If you have a "life verse" or a verse that is ministering to you right now, what might it be?
"The true light, which gives light to everyone, was coming into the world." This verse comes from John's Prologue and it has been ministering to me greatly as I consider the significance of the Incarnation in the context of human history.
If you have a personal life's mission statement, what is it? If not, how might you describe what you feel called to as a believer?
My personal life mission statement (I say this prescriptively, not descriptively, meaning that this is the statement that I want to order my life, however *dis-ordered my life may be at the moment) echoes Micah 6:8, "What does the LORD require of you, O man..." but it comes from the pen of T. S. Eliot: "To do the useful thing, to say the courageous thing, to contemplate the beautiful thing, that is enough for one man's life."
What three words would you use to describe your impressions of Faith Christian School thus far?
Faith Christian School is (1) healing in its genuine care, one for the other. Faith is (2) full of hope for the stewardship of the children in its care: their minds, lives, futures. Faith is (3) wise in seeing itself as (a.) antidotal in some ways to the intellectual plagues of our era but also (b.) limited by God's providence to a specific place, people, time. This sense of itself, this contentment, is truly wondrous to see. Many private schools suffer from a treacherous "movement mentality" that includes tunnel-vision, narcissism, and/or making foes of every alternative model. Faith is balanced, proportioned, wise.